advanced Tab
Configuring a Modem
The Advanced Tab of a profile is used to configure the modem in different ways from the default method. Some are used for debugging connection problems while others are used when you have dual modems.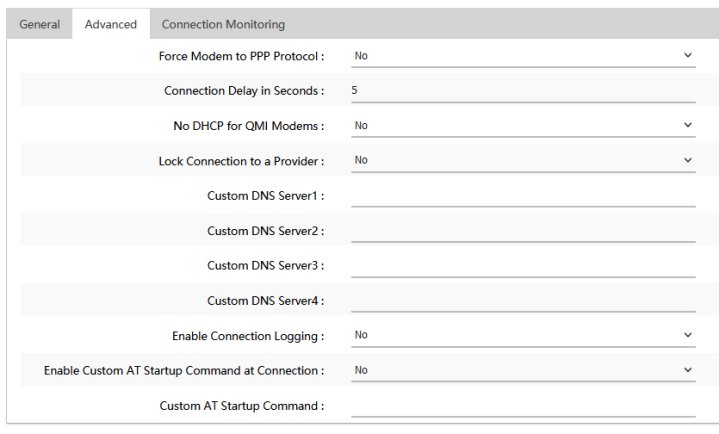 Force to PPP Protocol
When this is enabled the modem will not use it's normal protocol, such as MBIM or QMI, when connecting but will use the slower PPP protocol. This is used when debugging certain connection problems with new modems.
Connection Delay
This is a delay in the connection process that may be needed by some modems while they are connecting. Seldom used or needed these days.
No DHCP for QMI Modems
Setting this to Yes will force QMI modems to not use the modem's DHCP but to get that information elsewhere. This can make some QMI modems connect better.
Lock Connection to a Provider
This is used to stop a modem from Roaming while it is choosing a tower and ISP. You must know the Country and Network code of your ISP to use this.
Custom DNS Server
You can enter the IP Address for up to 4 DNS Servers that will be used instead of those provided by your ISP when the modem connects.
Enable Connection Logging
This will show the response to the AT Commands used during the connection process in the System Log. Used for debugging connection problems.
Enable Load Balancing at Connection
By default Load Balancing of the modems is disabled as it is not needed for a single modem. If you are using dual modems then this must be enabled to use Load Balancing with them.
Enable Custom AT Startup Command at Connection
This allows executing an AT Command immediately after the modem has connected.
Custom AT Startup Command
The AT Command to be executed.
Modem Interface Selection
This selection is only used in a Custom Profile and is for the use of dual modems. It should be left as Auto when using a single modem. This is used to specify which WAN interface (WAN1 or WAN2) a modem/SIM combination should use when it is detected and connected.
In Auto mode the first modem detected is assigned WAN1 and the second WAN2. When using dual modems this causes a problem because, after rebooting, you can not know which modem will be detected first. Load Balancing requires that you know which modem is using WAN1 and which modem is using WAN2. By specifying which modem/SIM combination will use WAN1 and which one will use WAN2 you can always know which interface is used by which modem.
As always, when making changes to the Advanced Tab click on Save&Apply to save the changes.